Meet our staff, board members, core volunteers, and others! Take a look at our bubble organization chart to see who does what at OKFI.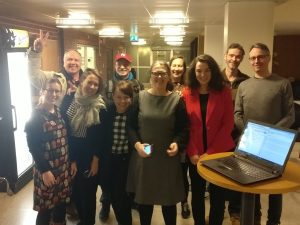 Board 2019
Tarmo Toikkanen, chair of the association
Kaisa Haverinen, vice-chair of the board
Aki Saariaho, vice-chair of the board
Mikael Hannolainen
Riia Järvenpää
Outi Puukko
Blinera Met Shala (Blina Meta)
Anna Tuomainen (Ansku Tuomainen)
Jouni Tuomisto
Mehalet Yared
contact: firstname.lastname@okf.fi
Executive Director
Teemu Ropponen (+358 40 525 5153), firstname.lastname@okf.fi
Staff
None at the moment – all our paid staff is currently busy working with MyData Global.
Projects
See our Projects page for ongoing projects and contact information for them.
Representatives
Open Knowledge Finland is present in various more and less official committees, advisory boards, task forces etc. The OKFFI representatives are the messengers between the wider open knowledge community and the specific body where they work. We aim to keep this page updated about the current and past representatives so that you know whom to contact.
JulkICT Labs -ohjausryhmä: Aleksi Rossi
Keskustakirjaston ICT-työryhmä: Joonas Pekkanen
Avoimen tieteen ja tutkimuksen hanke: Tuuli Toivonen strategiaryhmän edustajana, Konsta Happonen asiantuntijaryhmän edustajana (2.2.2016 asiantuntijaryhmän edustajana toimi Joona Lehtomäki)
FINNA työryhmä: Sanna Marttila
Past positions
Finnish Open Government Partnership committee / Avoimen hallinnon työryhmä: Raimo Muurinen
Avoimen tiedon ohjelman ohjausryhmä (VM): Jaakko Korhonen (2013-2015)
ICT 2015 My Data teemaryhmän edustaja (TEM): Kai Kuikkaniemi (2015)
Avoin Suomi 2014 messut: Laura Sillanpää työryhmäjäsen ja Matti Kinnunen ohjausryhmän jäsen (vuosi 2014)
JSH-työryhmä, Avointen tietoaineistojen lisensointi: Tarmo Toikkanen (kevät 2013-kevät 2014)