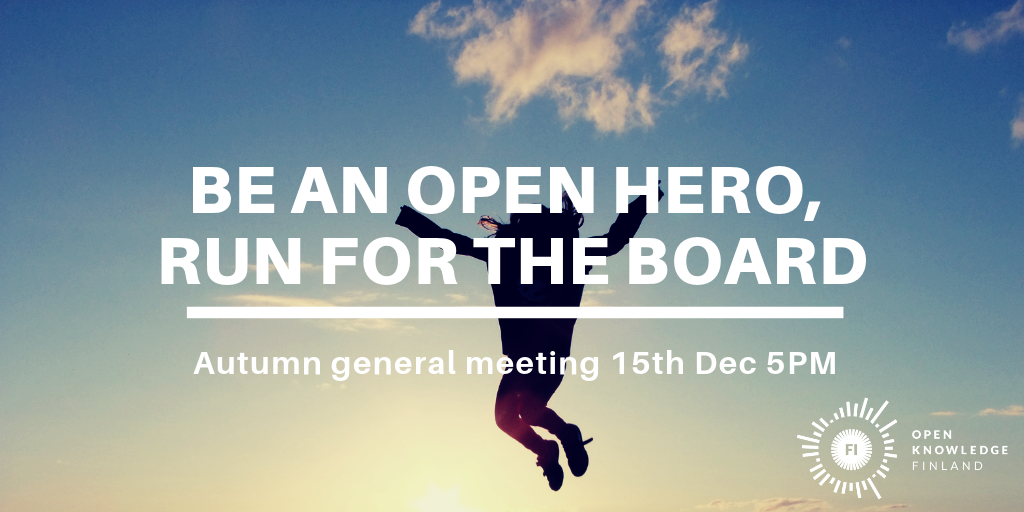 Do you want to use your skills for open and just digital society? Apply now to Open Knowledge Finland (OKFI) board and core team 2019!
We are looking for candidates with varying backgrounds – techies, youth, activists, researchers, policy & communication people – open society enthusiasts come in many forms! The most important skill is your interest in openness and willingness to contribute to the work of the association.
Board members are expected to participate in board meetings once per month. In addition, board members contribute to strategic management and daily activities of the association.
Examples of tasks of a board member can include (but are not limited to):
Arranging various events.

Participating in fundraising and partnership building.

Ensuring ethical accountability and supporting projects and organization's management.

Leading policy statements and advocacy work.

Participating in communication activities such as writing, social media  and web renewal.
Sign up as a candidate at: http://okf.fi/candidates-signup-for-2019
The new board is elected on December 15, 2018, at the autumn general meeting.
See: