Welcome to the OKFI Super Day on December 15, consisting of
Autumn General Meeting

Workshops

OK Xmas Party
Facebook: https://www.facebook.com/events/753638621649092/
Meetup: https://www.meetup.com/Open-Data-Finland/events/256750653/
Schedule
The tentative timetable is as follows:
13-16.30 Workshops

16.30-17 Break + quick board meeting

17-19 Autumn general meeting

19 -> OK Xmas Party
Workshops
Current workshop plans include at least
Mapping the projects and working groups of OKFI in a creative way

Opening and crystallizing science for decision-making and citizens: Developing the Knowledge Crystal platform

The Future of Copyright (host Wikimedia Suomi)

Let's sketch out Junior Hackathon for 2019!

Read more and contribute at

http://okf.fi/ok-xmas
Autumn general meeting
We welcome all members of the association to Open Knowledge Finland's autumn meeting on the 13th December 2018 at 50 PM to Maria 01, 2. floor, Lapinlahdenkatu 16. The meeting will be held mainly in Finnish.

Agenda includes 2019 action plan and budget, elections for the chairman and board 2019 and other items in our rules.

Comprehensive agenda, materials and e-participation link will be updated on the meeting page: https://www.okf.fi/about/decision-making/syyskokous-autumn-meeting-2018/
Members can sign up for the meeting via the sign-up form http://www.okf.fi/autumn-meeting-2018-registration
Please note that it is necessary to pre-register if you want to e-participate.
Sign-up before noon on December 15, 2018.
Join the OKFI board for 2019
Do you want to use your skills for open and just digital society? Apply now to Open Knowledge Finland (OKFI) board and core team 2019!
We are looking for candidates with varying backgrounds – techies, youth, activists, researchers, policy & communication people – open society enthusiasts come in many forms! The most important skill is your interest in openness and willingness to contribute to the work of the association.
Board members are expected to participate in board meetings once per month. In addition, board members contribute to strategic management and daily activities of the association.
Examples of tasks of a board member can include (but are not limited to):
Arranging various events.

Participating in fundraising and partnership building.

Ensuring ethical accountability and supporting projects and organization's management.

Leading policy statements and advocacy work.

Participating in communication activities such as writing, social media  and web renewal.
Sign up as a candidate at: http://okf.fi/candidates-signup-for-2019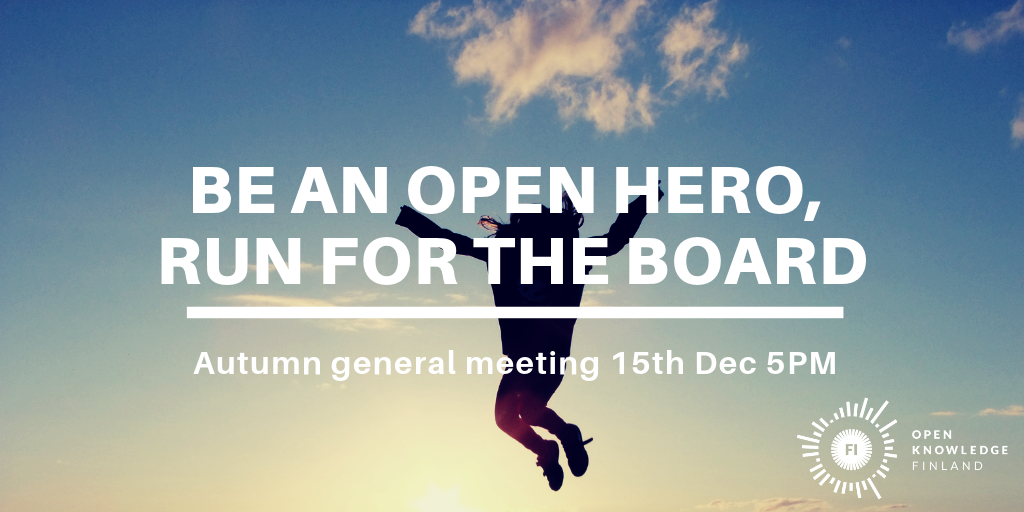 Warm welcome!
On behalf of Open Knowledge Finland board,
Susanna Ånäs
Puheenjohtaja