Learn the basics of applying systems thinking at work!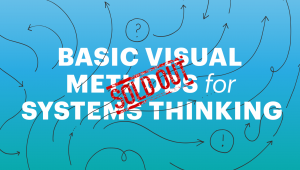 Time & Place: 20th of March, Wednesday, 14:00–17:00, held at Maria 01 (Lapinlahdenkatu 16)
Tickets:
Early bird: 49 EUR using the code 'earlybird' valid until 28.2.2019
OKFI members: 49 EUR using the code 'okfimember'
Normal ticket: 59 EUR
Alv 0 %
Cancelling and refunding bought tickets is not possible but if you can't make it, you can transfer your ticket to someone else. Please let us know if you wish to do this.
Don't delay – spots are limited to 30 so register today!

Discount tickets are available to members of Service Design Network Finland
Limited number of free tickets are available for students by request
Are you a social innovator, designer, activist, public official or another world changer? Do you work on climate issues, in healthcare or other big and difficult challenges that seem messy? Are you looking for holistic ways to approach the problems you are facing? Or are you simply curious what systems thinking is, and what it could offer?
We warmly invite you to join this hands-on workshop for anyone with limited or no systems thinking experience to gain a basic understanding of what it is and why it is important. During the workshop, you will learn and apply an easy-to-use visual method — Rich Pictures — to help gain an understanding of messy situations. The value for learning is not in the method itself, but the discussion which brings out multiple perspectives on the issue at hand. We will also introduce how systemic solutions differ from how we usually approach problems.
Who is it for: People who are interested or curious but have little to no experience in using systems thinking methods. Anyone facing messy situations in their everyday work and life, feeling stuck, and looking for new ways to approach them.
Learning outcome: During the hands-on workshop you will get a brief overview of the systems thinking approach. You will learn and apply the Rich Pictures method and understand what a systemic intervention to a systemic situation might be like. Rich Pictures can be used for doing research interviews or regular meetings at work.
The working language of the course is English.
This is the first workshop in series about applying systems thinking in your work. In the following workshops you will have the chance to learn how to further explore challenges with a lot of unknowns, and how to deal with them by applying other systems thinking methods and approaches.
Organizers and facilitators:
This course is organized by the Social Innovation for Systems Change Finland working group of Open Knowledge Finland. Our purpose is to support learning community around participatory and social practices for innovation that might have an impact on society. By buying a ticket you can also support our activities.
Helén Marton is a designer who likes to to wrestle with messy sustainability challenges by contributing her skills in visual communication, facilitation and design research. Her practical experience includes mapping the Finnish food systems while collaborating with the Ministry of Agriculture, Forestry and Environment.
Mikael Seppälä is a Service Designer, Community Manager and Educator with a broad understanding of participatory collaboration methods and socio-technical systems. He's a pracademic that seeks to bridge academic and theoretical approaches into practice.
Gunta Krumina is one of the working group members of transformative entrepreneurs passionate about positive impact on society, seeking to bring into practice innovative collaboration methods and design thinking in a broader sense. She has practical experience in building a new collaborative business model for a startup company, as well as for a few social communities.
Any questions? Feel free to send us a message by filling in the form below!