Do you want to be involved in launching and developing a short-stay rental platform that really complies with the principles of a fair, non-extractive and collaborative economy?
WELCOME TO MARIA01 (CORNER ROOM) TUESDAY 4.6 AT 19:00 TO THE KICK-OFF EVENT OF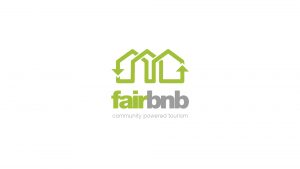 The Fairbnb.coop journey started in 2016 as a movement seeking to create an alternative to existing home-sharing platforms with a focus on commons and 100% respectful with legality.
The first hotspots were Venice and Amsterdam but soon other groups from all over Europe joined the debate and helped us shaping the final model that we are seeking to implement.
In late 2018 we created a co-op to be the legal entity behind a fair, collectively-owned and transparent booking platform. A platfrom that will allow travelers to find lawful accommodations while facilitating meaningful travel and community participation and which will reinvest 50% of its revenue to support local communities.
Why Fair?
+We're transparent. We share our data with local governments so cities can know the real impact of tourism.
+ We're compliant with local regulation and complement them with suggestions of additional policies by local communities.
+ 1 host – 1 home policy. We avoid multi-host in the platform, to ease the effect of over-tourism over the residential accommodation.
Why a Co-op?
+We are independent. Our platform is owned not by faceless investors but by those who use it and are impacted by its use
+Co-ownership + Co-Governance. Decisions are made collaboratively under a distributed governance.
+We are community centered. In order to rebuild communities, 50% of profits are reinvested in social projects that counter the negative effects of tourism.
Why Community Centered?
+ We foster local economies: Half of the commission charged by Fairbnb is returned to the local community, sustaining projects selected by local residents.
+ Local nodes are at the center of our organization and represent the engine that connect the people in the territories making human interaction the real "technology" of Fairbnb.coop
We are bringing bringing the fairbnb cooperative to Finland and setting up a local node. We are looking for people who can help build the network, the platform, find hosts to join the platform and projects to be funded through the commission charged by fairbnb and help with the crowdfunding campaign.
Please join us on this journey – This is collective action that can really change things in our cities!
Sign up at:
For more information check out these links:
https://fairbnb.coop/get-involved/
https://www.facebook.com/Fairbnbcoop/